I've been having a lingering itch to go Thrift-store shopping again. Whenever we go, the Hubby gets terribly impatient because I can take awhile and he worries that I'll bring bedbugs into our place. But to me, scouring through racks and racks of stuff just to find that little piece of treasure you bring back is worth it. Sometimes it's a greater thrill than buying something new, and it can be quite addicting. There's something special about a vintage or secondhand item. It makes me feel like I own a bit of history, as if there were prior stories to the item in its past life. Okay, maybe I'm starting to sound a little crazy now, because some people find it disgusting to wear "used clothing."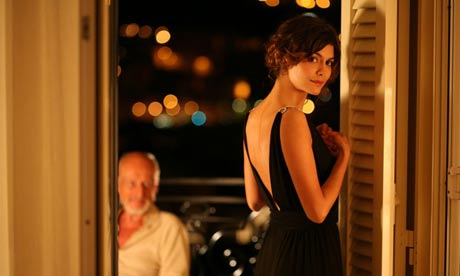 In the past, I've found a Missoni wool skirt, vintage Dior ties for $.99 for the Hubby, leather bags from Abraham & Strauss (original owners of what is now Macy*s) for $.99 and a black evening gown by David Meister, like the one Audrey Tatou wore in
Priceless
(minus the low-cut dip) for 8 bucks. But I have to say that my favorite Thrift-store moment was scoring a "new" condition
Alexander Wang
pinkish vested blouse for $3.49 at the Goodwill in SF. Speaking of...I still need to find the right moment to actually wear it or else it's going on ebay.com.
So, anyone up for Thrift-store hunting?